Project Method – 
BIZ
sailing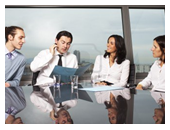 BIZsailing Project method preparation phases create the foundation to build expected results upon. The following realization phase is divided into separate business review milestones in order to continuously ensure changes with impact on organization, business processes and information management (IT). Go live procedure and the finalization phase are prepared during previous phases. The project is secured continuously by an advisory project review procedure. The Project method will guide you by proven instructions and templates through all project phases.
It is all about human management!
Feel free to contact us to and find out how BIZsailing can help you think outside the box.