Metaphor –
BIZ
s
ailing
F

oreword

Are you looking to improve business development within your company? There are most possibly a number of left over business development projects and activities, which never were finished….and you ask yourself; What was I supposed to do…? Daily challenges are piling up. The cause of this situation is usually the absence of a common play field – an often occurring problem which will be mentioned throughout this text.
The company's play field can be difficult to perceive, hence it initially is useful with metaphorical comparisons which will create new perspectives and force the imagination "Outside the box". The new perspective clarifies the play field as well as activities that will improve business development. This spirit is the foundation of the BIZsailing metaphor. Sailing is the perfect metaphor with its unique breadth of factors that lead to success. The more you penetrate into the aspects of sailing, the more metaphors you will find that resembles challenges that exist in everyday companies with the aim to "deliver products and services according to time plan from me to you". Interestingly, sailing and business administration are two seemingly different fields that have developed side by side since 3000 BC or earlier. We will "Seize the Future" with this long and collaborative development from a holistic point of view and with a goal that leads to success!
Contents
Sailing "So What and What's in it for me"
External factors
Goal
Strategy
Tactics
Measuring system
Materials
Preparation
Crew
Holistic view
Afterword
Sailing "So What and What's in it for me"

Sailing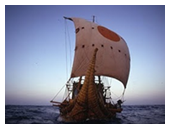 Take a few moments for reflection and move backwards in time, to the time when our ancestors began to ship their goods when distances became too long….
Egyptian craftsmen eventually had to transport their goods. A reed boat on the river Nile was a preferred solution in comparison to travelling over land. Craftsmen made a sail and used it with the wind in one direction. In the other direction they took down their sail and trusted the river's current. Was this the first step of organisation? Egypt was a pioneer within the field and you can see pictures on excavated pottery, dating from around 3000 BC or earlier, depicting primitive boats with single square sails. Sail was thus the means for reaching a goal. Plenty historical capitals were founded on locations next to water. Over time simple reed boats evolved into large full-rigged ships and the bigger the boats the bigger demands on a coordinated crew and control over the boats. Sadly enough, there are traces of unsuccessful sails in terms of wrecks…. The development of sailing boats continued and not even ships with steam engines could stop their popularity.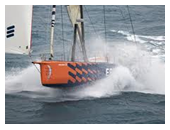 Sailing today is ranging from recreational sailing to the extreme racing, with a variety of shapes and materials. Sailing is thus dependent on goals, strategies, tactics, measurement systems, materials, preparation, and not least the crew. Strategy includes the path to the set up goals within a race. Tactical decisions during your sail are based on never-ending knowledge and experience and can improve your sailing in terms of preparation, safety, navigation, meteorology, and not least trimming of your sail. Speaking of materials, these will be selected based on the type of sailing you want to do. Although there is a lot of information on the subject, the experience and coordination of the crew is highly required. In other words, it is advantageous to understand the basics before you sail off; hence preparations are of big importance and will take time. You have to take the first step and then constantly learn and train to achieve future success.
Safety is always top of the agenda. The more you are prepared, the more you can push the limits.
Company
In parallel with sailboats and the reed boat history, life on land always revolved around the trade of goods and services. Shipments of large sailing ships enabled continuous development of contemporary products and vice versa. New markets were met and the knowledge exchanged.
Industrialism saw the light during the 18th Century and blossomed in the 19th Century. Ever since, various activities developed and new ones have been created. Henry Ford was a pioneer of the assembly line and yes, as everything else, this manufacturing process has improved and changed over the years.
From being a seller's market, the marketplace has moved to be owned by the purchaser, the customers. So what do competitors do? Hence it is highly important to understand customer need and to continually improve your own operations. Writing about this is easy, but the reality treats you a challenge. This applies to the saying "Seize the Future"!
This is where the comparison between a company and sailing is interesting. The wind is the external source of power required for sailing and can sometimes be hard to find and sometimes be all over you. The company's external source of power is the customer. Without customers there is no sale! Many customers as well as few customers with high needs generate positive momentum for the company if they are well equipped. There are many ways to solve "Seize the Future" within a company but there is no standard way easy to copy. Best practice for one company can be the opposite for another company. However, it is clear that the solution gets closer with a play field where an individual, within the company's best practice, continually improve his or hers contribution to deliver products and services according to time plan from me to you!
So What?

Do you know why the wind blows? Do you confine in the wind? What do you need? How do you capture the customer's needs? Through assumptions, or something else?
External factors

Sailing
Why does the wind blow? How many times have you asked yourself this question? I would say that you are rather unique if you have. Many take it for granted that the wind blows and act reactively according to the situation. Some answer – Differences in air pressure, and then the following question: Why are there differences in air pressure? The answer is the sun! Earth's surface absorbs the sun's energy and turns light into heat. This heat on the Earth's surface heats the air above. Most know that warm air rises. Air above the equator is warmer than above the Earth's surface near the poles and a large movable air flow begins a process, which is called wind. The Earth is largely composed of water and various types of land formations and creates differences in air pressure with the result of a complex movement of winds. This is a bit of mystery in meteorology. As long as the sun shines, there will be winds blowing.
With this knowledge, a tactical person onboard a sailboat will more efficiently use the local sea breeze and thereby increase speed. In another sailboat there is a not as tactical person onboard who lacks this knowledge. This person accepts the situation, but the result is little or no progress. You can sail a sailboat without this knowledge, but you will not be in the top-battle in the race.
This question and this answer can act as basic platform on which you can build your skills as well as your commitment to continuous learning.
Company
In a company it is important to understand customer needs and to ensure that the customer is satisfied beyond expectation. Without customers there is no business!
So What?

From a viewer's point of view there is rarely a "Why, Why, and again Why!" The word "Why" will lead you to finally understand the root of a problem.

Have you asked "why" to your internal customers?
Goals

Sailing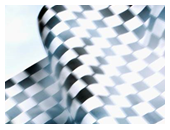 In one way or another, everyone has an objective to why they sail. The family may have dreamt about the archipelago and to sail quietly between the islands. The family has set targets to be able to reach the goal. Also professional managements set goals within sailing, for example to win a big ocean race. The overall goal for them is most certainly made clear by a number of targets. These targets revolve around planning, boat building, manning the crew, training and implementation of sailing. In this case the individual crew member most likely has clear goals to why he or she sails.
Company
A company in "Excellence" has clear and engaging targets, which are specific, measurable, acceptable, realistic and according to a time plan.
The challenge is to clarify business objectives and goals and to create commitment within the organisation so that every day's work contributes to the corporate goal. A play field within the company is a requirement for this challenge.
So What?

Have you formulated your corporate goal – and how?

What is your daily contribution to your company goals? Can it be measured?
Strategy

Sailing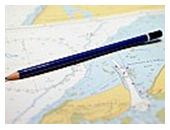 During a sailing race the aim is to hit different rounding marks. One must therefore consider the best way, which is affected by many external factors such as wind, water, land, and not least the competing sail boats. The whole situation is a big "play field". The consistent focus is to optimize speed towards the rounding marks, as well as steer between hinders such as competitors along the way and take the current wind directions into consideration. Should you follow the other yachts or find your own way? When everyone is sailing with the wind, the risk is less than when sailing against wind where one incorrect move can distinguish gain from loss.
Company
A company that lacks a clear, communicated and grounded approach tends to be reactive and it will be costly and timely to solve acute problems when they arise. A play field with a clear strategy contributes to a long term plan of goal achievements which will lead to everyone in the organization delivering products and services according to the time plan from me to you! Understanding and support are created when an organization contributes to development and upgrade of a strategy. Many unnecessary problems are reduced and the entire organization can unite forces and power in operational activities and continuous improvements.
So What?

What does the play field in your company look like? Does everyone have the same holistic picture?

Does the organization understand the strategy? Who developed the strategy and how? What is your interpretation of delivering products and services according to time plan from me to you?
Tactics

Sailing
You are now in a situation where you sail against wind and a competitor is located next to your boat. The question is who is the frontrunner in relation to the wind? The answer to this should of course be you – you should have the best tactics. The competitor may make an unexpected move which results in you needing to make a decision. Are you reactive or not in this situation?
Appointment of a person responsible for tactical decision making on board is vital so the rest of the crew can concentrate on the operational running while sailing.
Company
Within a company, it's always the little things that count and creates an entirety. On the other hand the entirety is bigger than all details combined. Introduction of a big and planned business change often occurs through projects. The result should be delivered with a vision to make the entire company effective. In real life implementation is a challenge when a number of known as well as unknown factors hinder the reach for the goal. It is not unusual that results from a project become overdone, late or over-priced. The management group is highly responsible to staff a project with a team experienced within the chosen tactics and who shows understanding of current operations and ability to implement the project. The project management's responsibility is to communicate, motivate and engage the project team along the way towards the goal. The project team can concentrate on their activities and results from these activities. Both project team and the organization expecting project delivery are winners when the goal is reached. A company with the right tactics on all levels is the winner.
So What?

It is easy to write and talk about the above mentioned tactics. The challenge is to make it into reality!

Is the project approach within your company assessed, communicated and supported?
Measuring system

Sailing
Location and time are two important components to consider during the planning of your sail. The word navigation does mean to, during the driving of a vehicle, determine position, course and speed and route plan. Here, you can make an additional historic journey in the subject. How did the person aboard the reed boat navigate when defeating the open waters for the first time? He did not have the navigation system of today on board so could not plan and monitor his route. Trim his set sails he most certainly did to the best of his ability.
From that time and until today development has moved forward with the results of more secure positioning. It is interesting that we still use maps based on methods developed by two scientists, Mercator and Gauss, who lived in the 16th and 18th Centuries.
Most sailboats today have a set of indicators showing the position, the wind direction and speed etc. Measurement instruments and units can sometimes be named cryptically, but they all have historical explanations and are useful with today's technological development. There are also a number of measurement points around the mast and sail, which is constantly tuned to optimize the boat's speed.
Company
The historic journey can also be seen within businesses. Today it is, even more, important to have control over the situation. The challenge is to invest in the appropriate set of measurement points and key figures, all of which lead to the overall set goal. With a shared and grounded play field in which business processes are visualized and anchored throughout the organization, identification of these points and implementation of its support actions are facilitated. The owner of the process has an important role in this case. Everyone in a company should be able to identify themselves with these measurement points, which they should be able to influence and then tune their activities in accordance with the corporate goals. Time factor as well as determination within the improvement process contributes to success.
So What?

What does the measurement system in your company look like?

Have you identified the points which you can influence?
Materials

Sailing
Maintenance of the boat and its material is of high importance. With a flat bottom, you do not have to have a "hand brake" on. Also design of sail and materials are important. The above-mentioned historical journey of the sailboat's development shows that development has soared in recent years compared with a relatively unchanging period when the reed boat with sails was created. Today, you have to be involved in this development if your vision and goal is to be one of the company frontrunners.
Company
Within companies, fleet maintenance and renewal are important when looking to meet current and future goals. This also applies to the information systems on the play field, which must work together with business processes and organization in a holistic perspective. Coordination, knowledge and experience in this perspective are the key to success for company operations, maintenance and development.
So What?

What is the process within your company regarding operations, maintenance and development?
Preparation

Sailing
In the chapter Sailing "So What and What's in it for me" we have mentioned appliances that should be on board before leaving the port. Not to forget is the default settings of the mast. With the wrong setting, your boat will not reach the speed you hope for. In regards to safety, the boat should handle all conditions the planned route offer. If problems arise, materials and experience necessary for survival must be on board. An unprepared crew will buy safety but will not be able to use it when storms arise. Even a life raft on board can be worthless without the necessary training.
Company
To solve urgent problems is important from a short term perspective. To find and solve the root of the problem is sometimes given low priority when another acute problem appears. Hence activities for improvement are in some cases low prioritized. The improvement is in the worst case never completed.
Continuous development of business processes, roles and regulations, where all levels of the organization are involved, will lead to reduction of acute problems. Built-in safety is also important for the continuous improvement.
An unforeseen event, such as fire, creates disaster. Many companies buy safety, in the shape of fire extinguishers. These are often placed close to each other and are embellished with signs. The brand of the extinguishers often receives the largest font size on these signs. Who will use these fire extinguishers in an emergency? Well, the employee and not the fire man! In a crisis the employee is faced with a choice between different fire extinguishers and only has few seconds until he or she needs to extinguish the fire. What happens if the wrong choice is made because the employee could not read the small print? Would you agree there is a difference in a precautious discussion and a real stressful situation in a dark and smoke-filled room? Does everyone know the difference between carbon dioxide, dry chemical, foam and water as the extinguishing agent? Is the staff trained enough? How can the situation be prevented? How should the purchase of fire extinguishers be done? Have you discussed an offer with at least two suppliers? There are improvements to make!
Are there additional hidden risks in your business that can be minimized and not least, be prevented?
So What?

Is your company equipped as a process driven company with built-in security?

How are your fire extinguishers at work positioned? This is always good and important to highlight.
Crew

Sailing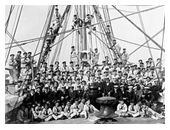 Everyone in the crew should have their distinct roles and understand the big picture.
It is not only the captain's responsibility, but also the crew's, to take and give the opportunity for continuous learning within the art of sailing. Communication on board is vital to avoid misunderstandings. As you probably are aware there are sailing terms, all with history and definitions. With a common vocabulary communication between individuals are easier and minimize performance of wrong actions. During sail, the crew should know sooner than later when to correct any mistakes. Staying ahead of the competition with the right balance in the performance is engaging when everyone contributes to success.
Company
Everyone in the organization must understand the big picture and understand their distinct roles, responsibilities and authority.
An organization often fails if the play field lacks a business model of the entire business or when the model lacks sense of reality. A frequent consequence due to this is unnecessary arguments. And is it you or me as individuals who have been making mistakes? Or? Unfortunately this can be visible for the customer.
Using common vocabulary, descriptions of main processes as well as support processes facilitate more cooperation. And this is not just enough; there is also a demand for effective and continuous learning culture.
The employee will through this find commitment and passion to deliver products and services in accordance with the time plan from me to you!
So What?

What is the learning culture within your company like?

Is there a documented strategy?

What is your daily contribution to this issue?
Holistic view

Sailing
Perhaps the individual buyer, who will collect his or her sail boat after purchase, doesn't need to understand the importance of the entirety of equipment. The individual buyer is more interested in the new and unknown boat. The buyer can be happily satisfied and ride the waves and the problems as they come, with all that implies. But there is another option, when a sailboat is equipped with a passionate and skilled crew who enjoy the tranquillity of the sea with a good dinner on board, and are prepared with materials, knowledge and experience as arranged on the play field.
Company
A company with an elaborate play field who can answer "What, Why, How, Who, Where, When" when questions regarding goal, strategy, business model, measuring systems, organisation and information systems arise, is more likely to be successful than a company who don't have the answers.
So What?

On board, which company would you like to see yourself? The company with or without this holistic view?
Afterword

Our hope is that you after this reading have new and interesting perspectives on business development through metaphor BIZsailing and will bring these into the future. An appropriate question at the end of this text is:
Why do you need to improve business development within your company?
BIZsailing has in its play field developed unique products, which are based on theory, knowledge and experience. Our services are based on the feeling to deliver products and services on time with service from me to you. You are welcome to contact us if you are interested and need support within this field.